It's still very early in the process, but I'll tell you something: The more I hear about Ward Cammack, the more I like what he has to say.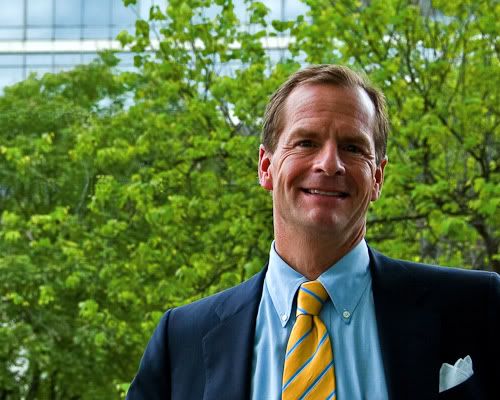 After 8 years of Gov. Phil Bredesen - a competent executive with a total unwillingness to create a state income tax and a tendency to govern from the center, I think Tennessee's Democrats have been well-represented. Bredesen won in 2002 and then won in a landslide in 2006.
But with increasing pressure from the well-funded Republicans, and with after a catastrophic (but narrow) loss of the state House in 2008 (the first time since Reconstruction that Democrats have been the minority in both House and Senate), Tennessee's Democrats need a comeback.
An interview with progressive blog Knoxviews.com looks very promising. This guy recognizes that sustainability is good government, and that the green economy is key to sustainability.
The interview with Cammack echoes some of his earlier policy discussions which were recently uploaded on his Youtube page. He stresses the importance of retooling the workforce, focusing on sustainable growth (instead of the over-reliance on the housing industry and real estate markets to drive economic growth), and developing greater efficiency through the use of information technology.
Cammack wouldn't strike you, initially, as your typical progressive. His biography suggests that he's a typical corporate investment banker, with over 30 years in the financial services industry. He worked with retired Vanderbilt University treasurer Bill Spitz, who managed a ginormous endowment with great success.
Cammack is one of those people who knows how to run businesses to make money. But his vision of the American economy makes him sound a little bit like an end times street prophet. Speaking of the current situation, he said:
"It's not a recession, it's a reset. It's a recalibration, and everything that we know in terms of how we thought economies work, what drives them, they're all turning upside down. It's a great opportunity if you know what to do, but it's to our disadvantage if we don't."

He went on to say that "This election is going to determine not where we're going over the next four or eight years but where we're going over the next one hundred years, because we're entering a new age."
Cammack is especially intriguing as a candidate for governor, because his likely Republican rivals include Zach Wamp (who, like TN Sen. Bob Corker, made huge money in the commercial real estate market during the 1980s and 90s ... after his bout with cocaine addiction) and Bill Haslam (whose father, Jim Haslam, made a fortune with Pilot Oil Corporation). These are two guys with huge connections to the old economy (real estate and oil ... and Wamp recently tied his fortunes to the nuclear power industry as well), and Cammack's positions on the issues are rooted in his understanding (from experience) that dependence on fossil fuels and housing bubbles cannot be sustained over time.
He said it involves more than what some may call the "green economy," and that it means demographics, with fewer young people and more older people, and "businesses across the board looking at their vulnerabilities with respect to natural resources. We're going from a world of abundant, infinite resources to finite resources."

"This changes the pricing," said Mr. Cammack. "Businesses are looking at the fact that there's no more away in throwing away. It's their business, too. Somebody else's waste impacts our business and our waste impacts somebody else's business."
And, while Zach Wamp still wants to argue that healthcare is a "privilege, not a right", Cammack seems to understand that rising healthcare costs are going to cause tremendous problems if we don't intervene in the "free market" to cut costs, create real competition, and empower consumers and providers.
Like Al Gore (and, I'd speculate, because of Al Gore), Cammack recognizes that it makes good business sense for us to reduce our dependence on foreign oil, to improve energy efficiency in our homes and businesses, and to refocus our attention on renewable energy sources.
It's refreshing to hear that other Democratic candidates, including Mike McWherter and Kim McMillan, are also calling for smart development, green jobs, and sustainable economic development. But it's even more refreshing to see Cammack's leadership team, his new media team, and his willingness to use his financial and social capital in order to raise awareness and funds for progressive causes.
And while McWherter (the son of popular Tennessee governor Ned Ray McWherter) has just gotten into the race, Cammack has been in the game long enough to develop a strong staff and develop some leadership fundraising. Kim McMillan, although she has great legislative experience, solid retail political ability, and PR expertise, has not been able to get the traction she needs to raise money, and is largely depending on her strong support among a supportive group of Democratic women (i.e., gender identity politics) to create her organization.
A rising tide raises all ships, and Cammack's conversion from sometimes-Republican-donor (as recently as 2005) to sold-out Democrat is making a difference already in turning back the red tide in Tennessee. Like many across the country, 8 years of George W. Bush and GOP failures were enough to swing Cammack into the open arms of the Democrats.